Modern Festivals With Holi Powder
You may have heard of Holi Festivals or seen the vibrant photos of people covered from head to toe in brightly colored powder, but always wondered what it was all about. Holi is an event that originated in India as a Hindu religious and cultural celebration. While The Festival of Colors has many traditions and legends associated with it, the condensed version is the celebration of Spring, rebirth and the triumph of good over evil. And what better way to celebrate than to throw color powders on each other!
It has risen in popularity in recent years with applications in everything from fun runs to photo shoots. Part of it's popularity is due to the fact that it is such a joyous celebration and well it's just plain fun! It'is an event that everyone can enjoy – adults, kids, grandparents!
Fun Festivities
Traditional festival from India is traditionally made from herbs and flowers. Now, it's widely available in the United States. If you are wondering where to buy, you can find holi powder for sale on our site, where we offer a wealth of wholesale holi powder products. Many of the colored powders in the United States are made from food grade cornstarch and non toxic FDA approved food dyes.
How and When To Celebrate Holi?
If you attend such event you will see many, many colors! Some of the colors do have meaning behind them. Red for example reflects, matrimony, love and fertility. Green symbolizes spring, new beginnings and harvest. Yellow represents turmeric which has medicinal uses. And Blue represents Krishna, a revered god in Hinduism.
Where To Get Wholesale Holi Powder?
This event is typically celebrated in late February/early March. This year it's scheduled for March 1st and 2nd, although you can find many similar events large and small to attend throughout the Spring. There's not a better way to welcome spring, say so long to winter and learn about other cultures than having bright colors thrown on you!
You may choose to host your own event! Whether you plan on having a large community wide event or simple festival in your backyard for the kiddos, having your own festival of colors may be easier than a flight to Bali! Be sure to see our blog post that more specifically discusses the uses of holi powder, or reach out to a Color Blaze team member at info@colorblaze.com. We would love to help you plan your event, whether it be a festival or a color run!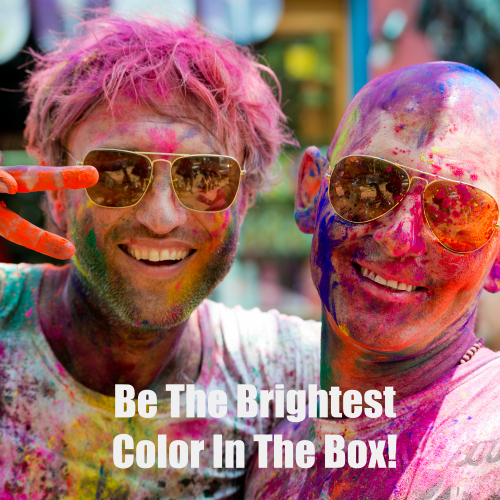 The post Modern Festivals With Holi Powder appeared first on Color Blaze Wholesale Color Powder.